There are many Chinese charms (coins) with auspicious or lucky expressions pertaining to Confucian beliefs of good fortune, longevity, official position and wealth. Many of these can be seen at this website by visiting
Charms with Auspicious Inscriptions
,
Good Fortune and Longevity Charms
, and
Chinese Pendant Charms
, among others.
However, there are very few charms concerned with such fundamental teachings of Confucius as "righteousness" and "filial piety".
Several examples of these charms may be seen below.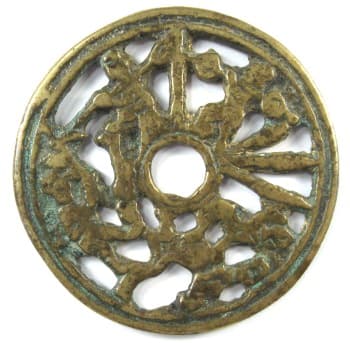 This is an ancient open work charm with a Confucian filial piety theme. (For other examples of this type of charm please visit
Chinese Open Work Charms
.)
The charm is fairly large with a diameter of 59 mm.
This charm is most interesting because it refers to four stories from "The Twenty-Four Examples of Filial Piety" (ershisixiao 二十四孝), also known as "The Twenty-Four Filial Exemplars", which is one of the most famous historical collections of stories, known to all Chinese, concerning how children in ancient times displayed filial piety.
The four famous stories referenced by this charm are discussed in detail below.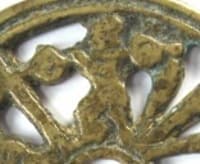 This view of the charm depicts a man carrying firewood on a shoulder pole. This story is about Zeng Shen (曾参) who lived during the Spring and Autumn period (770 - 476 BCE) of the Zhou Dynasty. His father died while he was still young, and he was extremely respectful and obedient to his mother. The family had to struggle to make a living and Zeng Shen would go to the mountains everyday to cut firewood while his mother stayed home to weave cloth to sell.
While Zeng Shen was out gathering wood one day, a guest from far away arrived at his home. Because the family was poor and Zeng Shen was not home at the time, his mother did not know how to properly entertain the guest. She became very agitated and unconsciously put her finger in her mouth and bit down so hard that it started to bleed.
Zeng Shen, who was still in the mountains, suddenly felt a sharp pain in his heart and knew there was something wrong with his mother. He immediately shouldered the firewood and returned home.
When he arrived home, he knelt down and asked his mother what was the matter. His mother, relieved and happy to see him, replied that a guest had arrived and she had been so upset that she had bit her finger. She praised her son for his respect and filial attitude, and for being able to know her thoughts from far away.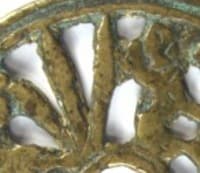 This next close-up view of the charm depicts a young boy kneeling beside three large
bamboo
stalks. The scene refers to the story of Meng Zong (孟 宗) who lived during the Three Kingdoms (220 - 280 AD). As in the previous story, his father died while he was still young and the mother and son struggled to survive.
One cold winter day, his mother became very ill and required a medicinal broth made of fresh bamboo shoots. Bamboo shoots only grow in warm weather and the ground was now frozen with ice and snow.
Meng Zong braved the cold and went out to the bamboo grove. He found bamboo stalks covered in ice but no bamboo shoots. He took hold of one of the stalks and wept because his mother was so sick and needed the bamboo shoots for her medicine. His filial devotion was so great that it moved heaven and earth. The earth suddenly cracked open and fresh bamboo shoots emerged. Meng Zong gathered the bamboo shoots, took them home and made the broth.
After eating the broth, his mother soon recovered from her illness.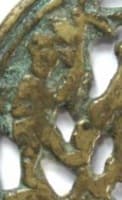 This view of the charm displays a man holding a hoe and working in a field. The story refers to Dong Yong (董永) who lived during the Han Dynasty (206 BCE - 230 AD). Dong Yong's mother had died some time in the past and he had to struggle as a farm laborer to support his invalid father.
When his father finally died, Dong Yong had no money for a proper funeral because he had been spending all his earnings over the years to buy medicine for his ailing father. To have the means to bury his father, Dong Yong sold himself into bondage as an indentured servant with a promise to repay the money-lender in the future.
After burying his father, Dong Yong was on his way to his new master when he met a pretty woman on the road. The woman told him how both her parents had died and that she could not find any of her relatives. She hoped that Dong Yong might provide her the security in life she sought, and the two decided immediately to be a couple.
They arrived at the Master's house who happened to be a weaver. To obtain Dong Yong's freedom, the Master told them they would have to weave 300 bolts of perfect cloth. Dong Yong estimated that if he and his wife worked diligently they could meet the goal in three years time.
To Dong Yong's great surprise, his wife was able to complete the 300 bolts of perfect cloth in less than a month.
With Dong Yong now a free man again, the two set off on their way back home. When they reached the exact spot on the road where they first met, his wife stopped and with tears running down her face explained that she was actually an "immortal" from the heavens. She told him she had been so touched by his filial piety to his father that she had come down to the world to help him with his task. But, it was now time for her to return to the heavens so she bade him goodbye and vanished.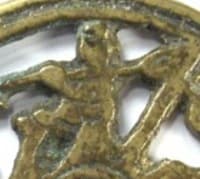 The final scene from the charm shows a boy sitting while holding a fishing pole over his shoulder. The story is of Wang Xiang (王祥) who lived during the Jin Dynasty (265 -420 AD).
Wang Xiang's mother died while he was still young and his father took another wife so that there would be a mother to raise him. Unfortunately, the stepmother was an ill-tempered woman who disliked her stepson and she constantly scolded him in front of his father. She was even able to turn his father against him.
Wang Xiang, nevertheless, remained a filial son to both his father and stepmother.
One very cold winter day, the stepmother became ill and wanted fresh
carp fish
as medicine. The river was frozen solid but Wang Xiang, being a dutiful son, did not want to see his parents unhappy. He could not find any open water on the frozen river so he sat down on the ice and began to cry. The combination of his body heat and warm tears melted a hole in the river ice and two carp that had been trapped in the ice suddenly leaped onto the bank. Wang Xiang happily scooped them up and took them home to his ailing stepmother.
Wang Xiang's filial piety caused his stepmother to be ashamed of her selfish attitude and turned her into a caring mother for her stepson.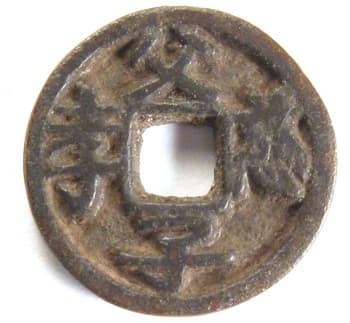 The inscription on this charm is a classic example of Confucian filial piety between a parent and child.
The inscription is the same on both the obverse and reverse sides and is read clockwise, beginning with the character at the top, as
fu ci zi xiao
(父慈子孝).
The inscription translates as "the father is kind and the son is filial".
This small charm dates to the Song (960-1279) or Yuan (1271-1368) dynasties.
The diameter is 17 mm and the weight is 3.2 grams.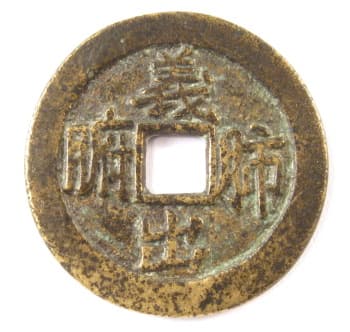 This next charm does not tell a story either but takes the Confucian concept of "righteousness" (
yi
义) as its theme.
The inscription is read top to bottom and right to left as
yi chu fei fu
(义出肺腑) which can be roughly translated as "righteousness comes from the bottom of one's heart".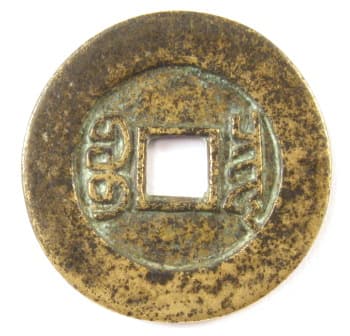 The reverse side of this charm resembles that of a typical
"coin" cast during the Qing (Ch'ing) Dynasty
.
The characters are Manchu and not Chinese. The character on the left is Manchu for "board" or "mint". The Manchu character on the right would indicate which "board" or "mint" actually cast the charm but it is written slightly differently than that normally seen on coins. It appears to be the Manchu character which translates in Chinese to
quan
(泉). This would indicate that it was cast by the Board of Revenue in Beijing (Peking). As is the case with the vast majority of Chinese charms, however, it is probable that this charm was not cast at an official government mint.
The charm is 28.5 mm in diameter and weighs 7.9 grams.