Chinese Charm Articles

Introduction to Chinese Charms

Ancient Chinese Charms and Coins
Historical information and many images of old Chinese charms, coins, paper money, horse coins, and chess pieces
Types of Chinese Charms
Images of old Chinese charms covering many categories with detailed discussion of history and meaning
Emergence of Chinese Charms
The beginning of symbols appearing on Chinese coins
Inscriptions


How to Read and Understand the Meaning of Inscriptions (Symbols) on Chinese Charms
Guide to reading Chinese character (symbol) inscriptions and legends on Chinese charms

Chinese Charm Inscriptions
English translation of inscriptions on Chinese charms
Chinese Charms with Coin Inscriptions
Images and history of charms with Chinese coin inscriptions (legends)
Meaning of Chinese Charm Symbols
Chinese Charms -- Hidden Meaning of Symbols
Hidden or Implied Meaning of Chinese Charm Symbols

Ancient Chinese Charm Symbols: Star, Moon, Cloud and Dragon
Ancient belief in Yin Yang and the Five Elements to explain star, moon, cloud and dragon symbols on Chinese coins and charms

Categories of Chinese Charms

The Chinese House, Good Fortune and Harmony with Nature
Feng Shui, charms and amulets in the siting, building and decoration of traditional Chinese houses
of Chinese Charms
Chinese Charms -- Auspicious Inscriptions
Images, symbols and meaning of old Chinese charms for good luck, good fortune, wealth, longevity, family, promotion and honor
Ancient Chinese Pendant Charms
History, symbols, meaning and images of old Chinese charms of different shapes which were worn as pendants on necklaces or hung from the waist

Confucian Charms
History and images of Chinese charms expressing the teachings and beliefs of Confucius

Ancient Chinese "Good Fortune" and Longevity Charms
Old Chinese charms having 24 "good fortune" and 24 longevity characters
Ancient Chinese Gourd Charms
History, symbolism, meaning and images of old Chinese gourd charms

Chinese Astronomy Coins
Chinese astronomy coins displaying the Milky Way, Big Dipper, star constellations, planets, the sun and the moon

Chinese Five Poisons Charms and Amulets
Chinese charms of the Five Poisons to protect from evil influences
Chinese Charms -- The Eight Treasures
Chinese charms displaying the Eight Treasures such as the flaming pearl, lozenge, rhinoceros horns and ruyi
Ancient Chinese Lock Charms
Images and historical information on old Chinese lock charms
Ancient Chinese Fish Charms
Images, history and meaning of old Chinese fish charms
Ancient Chinese Peach Charms
Images, history and meaning of old Chinese peach charms

Ancient Chinese Charms -- Liu Hai and the Three-Legged Toad
History and images of Chinese charms displaying Liu Hai and the Three-Legged Toad

Chinese Charms -- Men Plow, Women Weave
History, myth and images of Chinese charms related to rice and silk production

Chinese Boy Charms
Charms with boy on top reflecting Chinese traditional wish for many sons

Swords and Amulets
Images, history, symbolism and meaning of Chinese swords and amulets

Unknown Chinese Charms
Unidentified and unknown old Chinese Taoist and Buddhist temple charms

Chinese Charms --The Book of Changes and Bagua
Chinese charms of the Book of Changes (I Ching) and the Eight Trigrams or Bagua (used in feng shui and divination)
Buddhist Charms

Buddhist Charms
History and images of Chinese Buddhist temple coins and charms

Bodhidharma Holding a Wu Zhu Coin
Daruma doll showing Bodhidharma holding a "tai he wu zhu" coin
Chinese Buddhist Charm with Sanskrit Characters
Buddhist charm with inscription
"a mi tuo fo
" written in Sanskrit characters
Daoist Charms

Daoist (Taoist) Charms
Images, history, symbolism and meaning of old Chinese charms with Daoist (Taoist) inscriptions
Daoist Talisman and the Five Great Mountains
A Daoist talisman (charm) with 'true form' map-like charts of China's Five Great Mountains.

Laozi and Zhang Daoling Charm
Charm depicting Laozi and Zhang Daoling on "Crane Cry Mountain"
"Quest for Longevity" Daoist Charm
Charm with Daoist magic writing inscription which displays many traditional longevity and immortality symbols
Liao Dynasty Charms

Liao Dynasty "Mother of Nine Sons" Charm
A Qidan charm traditionally believed to represent a mother and nine sons but now thought to symbolize Emperor Taizu ascending to the throne by riding a dragon in a manner similar to the legendary "Yellow Emperor".

Liao Dynasty Charm
An unusual Liao Dynasty charm with a Daoist inscription written in Qidan small character script
Marriage Charms
Ancient Chinese Marriage Charms
Images, history, symbols and meaning of old Chinese marriage and wedding charms
"Song of Unending Sorrow" Charm
A charm based on a poem by Tang Dynasty poet Bai Juyi describing the great love of Emperor Xuanzong and the beautiful Yang Guifei
Open Work Charms

Ancient Chinese Open-Work Charms
Images of different types of Chinese Open Works Charms
Chinese Pavilion Open Work Charm
Open work charm showing
guqin
player and
weiqi
(
go
) players in a temple theme with a bridge, pavilions, bamboo trees and longevity rocks
Zodiac Charms
Ancient Chinese Zodiac Charms
History and images of Chinese Charms displaying Zodiac Animals and the Earthly Branches
Tiger Hour Charm
Chinese "tiger hour" charm based on the "Large Coin of the Five Elements"

Kazakhstan Zodiac Charm
Very rare ancient zodiac charm discovered in Kazakhstan

Coins and Charms of the Shui Nationality
Very rare zodiac and double dragon charm displaying ancient pictographic Shui Shu (Shui Script) characters of the Shui Nationality
Charms Associated with Chinese Coins



Ancient Chinese Coins with Charm Features
Images and history of Chinese coins with charm characteristics and features


Chinese Charms with Coin Inscriptions
Images and history of charms with Chinese coin inscriptions (legends)



Chinese Poem Coins
Images and history of Chinese poem coins and charms of Emperor Kangxi of the Qing (Ch'ing) Dynasty

Ancient Chinese Peace Coins and Charms
History and images of Chinese peace (Tai Ping) charms and coins

Chinese Charms -- Spade Charms
Images and history of ancient Chinese shovel and spade money and the evolution into a charm form

Chinese Tokens
Images and history of old Chinese tokens with charm and amulet features
Bamboo Tallies
Images and history of the Chinese type of token money known as bamboo tallies
Chinese Charm Monographs



Chinese Treasure Bowl Charm
The stories and symbols associated with the magical wealth-producing Chinese treasure bowl

Legacy of an Untarnished Reputation
A charm written in tadpole script honoring the high moral character of Yang Zhen who was a government official during the Eastern Han dynasty

Nine-Fold Seal Script Charm
Rare Ming dynasty charm written in nine-fold seal script

Chinese Charms and Bird-Worm Seal Script
Chinese charms written in ancient Bird-Worm seal script.

Qing Dynasty Peace Charm
Discussion of an extraordinary Qing Dynasty peace charm and a rare one hundred cash Xian Feng Zhong Bao coin cast at the Fuzhou mint.



Shun Tian Yuan Bao Charm
Tang dynasty charm based on
shun tian yuan bao
coin beautifully gilded and engraved with auspicious clouds, bat, fish and lotus.

Lu Dongbin Charm
Charm displaying the "immortal" Lu Dongbin with sword and fly-whisk and the inscription "Great Emperor of Trustworthy Protection"
May There Be the Birth of One Honorable Son After Another
Hand carved charm with dragon and phoenix


'Chang Ming Fu Gui' Plaque Charm
Good luck charm wishing "long life, riches and honor" displaying "Star Official of Dominant Vitality", dragon, sun and moon


Coin Dragon
A "treasure box" with 24 gold charms having the inscription "May the world be at peace" (
tian xia tai ping
) and a "coin dragon" were discovered in the Forbidden City

C
hinese Football Charm
An unusual charm from the Song Dynasty displays Chinese playing football


Chinese "Laid to Rest" Burial Charm
Burial coin unearthed in Qing dynasty grave



"Cassia and Orchid" Charm
A rare Qing Dynasty charm expressing the wish that sons and grandsons will be successful in the imperial examinations


"Dragon Soaring and Phoenix Dancing" Charm
A charm commemorating the great Tang dynasty poet Wang Bo


Chinese Palindrome Charm
A rare palindrome charm from the Qing Dynasty made by one of China's ethnic minorities



Not Being Greedy Is a Treasure
A charm commemorating Zi Han who was a virtuous and wise official in the state of Song


Chinese "World of Brightness" Coin
Several theories proposed concerning the meaning of this mysterious charm

Ming Dynasty Cloisonne Charm

Rare Ming dynasty cloisonne charm with many Buddhist symbols


Zithers and Grasshoppers
An unusual Chinese charm with zithers and grasshoppers expressing marital harmony and procreation



Good Fortune, Salary, Longevity and Happiness
A Chinese charm displaying a bat, deer, crane and magpies illustrates the Chinese fondness for visual puns and rebuses




"Happiness According to Your Wishes" Charm
A Qing Dynasty charm that illustrates the Chinese love for visual puns

Happiness Is Before Your Eyes
A charm presenting a visual pun consisting of two coins and a bat
Four Happiness Boys
A good luck picture of two boys which gives the illusion of four boys and symbolizes the "four happinesses"
A Talented and Noble Young Man
A charm with the inscription "zhi lan yu shu" expressing the wish to successfully pass the imperial examinations, be appointed to an important government position, and bring honor and prosperity to the family.



"Eight Decalitres of Talent" Charm
A Chinese charm with an expression originally referring to Cao Zhi, one of the sons of the Three Kingdom's warlord Cao Cao, but now used to describe a very talented or gifted person


Chinese Star Charm
A charm based on the Song Dynasty "da guan tong bao" coin which displays star constellations on its reverse side

Safe Journey Charm
A safe journey charm displaying ancient weapons, the Big Dipper and Eight Trigrams that is also believed to have been a secret "badge" that was carried by members of the "Boxer Rebellion" of the late Qing Dynasty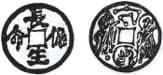 Royal Lord of the East and the Queen Mother of the West
This charm depicts King Mu of the Zhou (Royal Lord of the East) asking for the drug of immortality from the Queen Mother of the West


Huo Bu Charm
Chinese charm based on the huo bu spade money of Wang Mang

Little Shoe Charms to Find Love
A small shoe charm to bring luck in finding a husband

---
Return to
Ancient Chinese Charms and Coins