Chinese Coin Articles


Chinese Coins
History and images of Chinese coins and other ancient forms of money



Emergence of Chinese Charms
The beginning of symbols appearing on Chinese coins



Chinese Charms with Coin Inscriptions
Images and history of charms with Chinese coin inscriptions (legends)


Ancient Chinese Coins with Charm Features
Images and history of Chinese coins with charm characteristics and features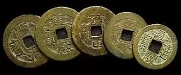 Feng Shui Coins
Chinese coins used in feng shui and how to select the best coins to provide good luck, good fortune and protect against evil



Chinese Coins with Flower (Rosette) Holes
Images, history, production technique, and meaning of old Chinese coins with flower (rosette), "turtle shell", "star" and diamond shape holes



Chinese Cash Coins and Fortune-Telling
How old Chinese cash coins were traditionally used for fortune-telling

Chinese Coins and Traditional Chinese Medicine
The use of old Chinese coins in traditional Chinese medicine


Ancient Chinese Peace Coins and Charms
History and images of Chinese peace (Tai Ping) charms and coins


Chinese Poem Coins
Images and history of Chinese poem coins and charms of Emperor Kangxi of the Qing (Ch'ing) Dynasty


Chinese Money Trees
Images, history and meaning of Chinese money trees and coin trees



Chinese Tokens
Images and history of old Chinese tokens with charm and amulet features


Chinese Charms -- Spade Charms
Images and history of ancient Chinese shovel and spade money and the evolution into a charm form


Bamboo Tallies
Images and history of the Chinese type of token money known as bamboo tallies
Chinese Coin Monographs


1910 Chinese Yunnan Spring Dollar
The 1910 Yunnan Spring Dollar is considered one of the rarest of Chinese coins.


China's Biggest Ancient Coin
The largest and heaviest ancient Chinese coin was cast during the Ming Dynasty and was unearthed in Yunnan Province in 1997.




The King of Qing Dynasty Coins
Very rare "100 cash" pattern coin known as "The King of Qing Dynasty Coins".


Vault Protector Coins
Large, thick, heavy and well-made coins with charm-like powers to provide protection at the treasury



Empress Dowager Cixi Commemorative Coin
A rare guang xu yuan bao "one tael" silver coin produced at the Guangdong Province mint to commemorate the 70th birthday of the Empress Dowager Cixi.


State of Qin Silver Banliang Coin
Extremely rare and unique specimen of large and heavy silver banliang coin from State of Qin
Two Rare Coins Discovered in Ningxia

Rare Western Xia and Northern Song coins discovered in Ningxia


Five Goat Coin
A rare Chinese copper coin struck at the mint in Guangdong Province in 1936 displaying five goats.


Chinese Burial Money
Various forms of buried money to be used by deceased in afterlife


Coin Dragon
Dragon made of cash coins discovered in the Hall of Mental Cultivation in the Forbidden City


Taiping Rebellion Coins Saved from Furnace
Rare iron coins from the Taiping Rebellion were secretly hidden so as not to be used as scrap iron for a steel furnace during the Great Leap Forward.



Chinese "10 Cash" Coins Overstruck on Korean "5 Fun" Coins
Near the end of the Qing (Ch'ing) Dynasty, Japanese samurai and Korean businessmen conspired to counterfeit Chinese "10 Cash" copper coins using Korean "5 Fun" coins as blanks.


Chinese "World of Brightness" Coin
Discussion of the mysterious "World of Brightness" coin which resembles the
quang xu tong bao
coin.

Bodhidharma Holding a Wu Zhu Coin
Daruma doll showing Bodhidharma holding a "tai he wu zhu" coin

Kingdom of Chu "Tian Ce Fu Bao" Gilt Bronze Coin
Very rare gilt bronze coin from Kingdom of Chu of Five Dynasties and Ten Kingdoms period

Lu Xun and Chinese Coins
Lu Xun, one of China's greatest modern writers, also contributed to the design of the dragon and phoenix silver dollar.

Qi Xiang Tong Bao Engraved Mother Coin

Very rare Qi Xiang Tong Bao mother coin from Qing dynasty

Sun Yat-Sen "Memento" Coin
The meaning of the symbols on this silver dollar coin with a portrait of Sun Yat-Sen commemorating the founding of the Republic of China.

Song Dynasty Biscuit Coins
Biscuit or cake coins of the Song dynasty

"Drilled Hole" Ban Liang Coins
Unusual
ban liang
coins with drilled holes unearthed in Gansu Province.

Turtle-Shaped Coin of the Han Dynasty
Silver coin of the bai jin san pin

China's Largest Gold Coin
China's largest gold coin was also the largest gold coin in the world when it was produced in the year 2000.

'Kai Yuan Tong Bao' Clay Mould
Only known specimen of clay mould used to cast Kai Yuan Tong Bao coins of Tang Dynasty

Unusual Variations of the 'Kai Yuan Tong Bao' Coin
Several interesting and unusual coins based on the Tang dynasty Kai Yuan Tong Bao coin

Zhong Kui -- "Peking Opera" Star and "Demon Slayer"
Zhong Kui, the popular "Peking Opera" star and the immortal "Demon Slayer" who has protected Chinese households for centuries, is portrayed on this modern silver coin.

State of Qi Six Character Knife Money
Six character knife-shaped money from ancient State of Qi

Ancient Chinese Coin Exhibit at the Qi Heritage Museum
The Qi Heritage Museum has the best collection in the world of Chinese money from the late Zhou and Warring States Period

Korean Inscription on Ancient Chinese Knife-Shaped Money
A Korean scholar believes the unidentified inscription on this Chinese knife money is written in ancient Korean script

Buy Donkey Burgers with Ancient Chinese Coins
Buy "donkey burgers" and pay with ancient Chinese money at a restaurant in Beijing.

Body Armor Made of Old Chinese Coins
Old Chinese coins used as body armor by the Tlingit people of North America.

Three Hole Spades
Very rare "three hole spade" coin sets world record as most expensive ancient Chinese coin.

Rare 'Three Hole Spade' Sold at Auction
The only known specimen of a large (one
liang
) three hole spade minted at Yang Jian in the State of Zhao during the Warring States period has been sold.

Admiral Zheng He and the Yongle Tongbao Coin
China's maritime explorer Admiral Zheng He and the Ming Dynasty "yongle tongbao" coin recently discovered in Kenya.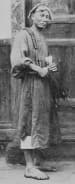 Carrying Cash in Imperial China
Photo of a man carrying Chinese cash coins during the Qing dynasty

Stringing Cash Coins
Rare photograph of men putting Chinese cash coins on strings during Qing dynasty

Cycling Across Imperial China
Two Americans ride bicycles across China during the Qing dynasty and face challenges carrying loads of Chinese cash coins

Chinese Coins and Bank Logos
Chinese coins and the design of Chinese bank logos.

World's Largest Copper Coin Sculpture

A Tang dynasty 'Kai Yuan Tong Bao' coin is the largest copper coin sculpture in the world

Young Numismatists in China

Young children playing with ancient Chinese coins found on their property

Coins and Charms of the Shui Nationality
Very rare coin of the Shui people dating from the Northern Song Dynasty.

Southern Song Coin for Jin Army Defectors
General Liu Guangshi of the Southern Song army minted
zhao na xin bao
coin to encourage defection from Jin army

Earliest Peasant Rebellion in China to Mint Coins
Ying yun yuan bao coin in Shanghai Museum
Chinese Coins and Archaeology



Ancient Coins Discovered in Golden Horse River
Villagers in Chengdu, Sichuan Province discover a large quantity of ancient Chinese coins in the "Golden Horse River".


Villagers Dig for Coins in Grand Canal
Villagers dig for old coins in ancient Grand Canal in Shandong


Coins Discovered at Rufu Stone Pagoda
Song Dynasty coins discovered by archaeologists help date the Rufu Stone Pagoda in Hainan Province.


Chinese Villager Unearths 'Old Coin' While Digging Ancestral Grave
Villager frightened when he saw the 'old coin' move

Tons of Song Dynasty Iron Coins Discovered
Several tons of Song Dynasty iron coins were recently discovered in a field near Cangzhou, Hebei Province.

Coin Design Discovered on Wall Bricks from Kingdom of Min
Design of Chinese cash coins found on bricks of an ancient city wall from the Tang Dynasty.

Bricks with Coin Design Discovered in Southern Dynasty Tomb
Many bricks used the construction of this Southern Dynasties tomb have the design of a Chinese cash coin

Ancient Kingdom of Min Coins Cast in Quanzhou
Clay moulds used to cast the Kingdom of Min coins were discovered while digging for the Chinese traditional medicine "golden juice".

Song Dynasty Coin Moulds Found in Salt Lake
Coin moulds for Song dynasty coins found in Salt Lake in Shanxi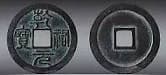 Unique Western Xia Coin Written in Seal Script Unearthed in Ningxia
Rare Western Xia
qian you yuan bao
coin written in seal script unearthed

200,000 Ancient Chinese Coins Found in Old Well
Approximately 200,000 Song Dynasty coins were discovered in an old well in Suzhou, Jiangsu Province.

1,000 Coins Discovered in Han Dynasty Grave
More than 1,000 "Large Coin Fifty" (
da quan wu shi
) coins were excavated from a Han Dynasty grave.

12,000 Song Dynasty Iron Coins Unearthed in Shanxi Province
More than 12,000 iron coins from Song dynasty recovered from ruins in Shanxi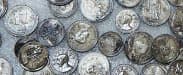 Tons of Chinese Coins Found in Sunken World War II Japanese Ship
About 3.3 tons of foreign coins, mainly Chinese silver coins from the 1920's and 1930's, have been recovered from a Japanese freighter that was sunk by an American warplane off the west coast of Korea during World War II.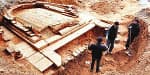 How Chinese Archaeologists Clean Coins
How archaeologists cleaned badly corroded coins unearthed at a tomb in Fuzhou, Fujian Province.

Coffin Contains Coin Instead of Corpse
Archaeologists unearth a coffin containing a coin but no corpse.
More than 2,200 Rare "Later Jin Dynasty" Coins Discovered
Tomb robbers captured after unearthing rare coins from the Later Jin Dynasty (1616-1636 AD).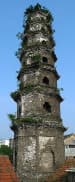 A Thousand Coins Discovered at Cishi Pagoda

A thousand Tang and Song dynasty coins discovered during restoration of Cishi Pagoda in Hunan
Smallest Chinese Coin in History Unearthed
Watch video from China Central Television of what may be the smallest Chinese coin ever discovered.

Largest Cache of Ancient Coins Unearthed in Xinjiang Province
More than 14,000 coins unearthed in Xinjiang Province

Knife and Spade Money from State of Yan Unearthed in Hebei
Large hoard of knife and spade money from the ancient State of Yan was unearthed by a farmer digging a well in Hebei Province.

600 'Ming Knives' from the State of Yan Unearthed in Hebei
Villager in Hebei Province accidentally discovers a buried clay pot containing 600 specimens of 'ming knife money' from the State of Yan.

Knife Money from State of Qi Unearthed in Shandong
Farmer digs up "four character" knife money from ancient State of Qi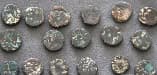 Ancient Kushan Empire Coins Unearthed in Ningxia
Silk Road coins from the ancient Kushan Empire unearthed in northwest China's Ningxia Hui Autonomous region.
3 tons of Coins Excavated from Ruins of Han Dynasty Mint in Inner Mongolia
Three tons of coins and many clay moulds were recently excavated from the ruins of a Han Dynasty mint in Inner Mongolia.

Coins Made of Turtle Shell Discovered at Famen Temple
"Kaiyuan Tongbao" coins made from sea turtle shell were discovered at Famen Temple where a sacred relic of the Buddha is kept.

Kaiyuan Tongbao Coins Unearthed at Fuhaiyuan Temple
Buried cache of "kaiyuan tongbao" coins weighing 27.5 kg unearthed at 1,100-year-old Fuhaiyuan Temple.
700-Year-Old Coin Pit Discovered in Hunan Province
Watch a video report on a Song and Yuan dynasty money pit recently discovered in Hunan Province.

Digging for Coins Despite Lurking Danger
In the midst of unexploded ordnance from WW2, treasure hunters in Chongqing dig for old Chinese coins in dry Jialing River riverbed.

Mystery Surrounding 100 Tons of Song Dynasty Iron Coins
Three theories in regard to the mystery surrounding 100 tons of Song Dynasty iron coins discovered near Cangzhou in Hebei Province.

3,000 Tang Dynasty 'Kai Yuan Tong Bao' Coins Unearthed in Xinjiang
Latest news reports state that nearly 10,000 "kai yuan tong bao" coins from the Tang Dynasty have been unearthed in the ancient Silk Road city of Kucha.

Song Dynasty Coins in a Ming Dynasty Tomb
A Ming Dynasty tomb with exquisite paintings but containing Song Dynasty coins instead of Ming Dynasty coins is discovered near Xuzhou, Jiangsu Province.

Archaeological Blind Boxes and Ancient Chinese Coins
Chinese museums offer archaeological blind boxes for people to dig for cultural artifacts just like an archaeologist

China TV Shows Ancient Coin Cache Being Dug Up in Anhui
Watch Chinese TV news broadcast showing archaeologists digging up more than 500 pounds of Song Dynasty coins in Anhui Province.

Tang and Song Dynasty Coins Dug Up in Yancheng
Villagers dig for coin "treasure" buried in river mud in Yancheng
Coins from Han, Tang, Song and Jin Dynasties Unearthed in Gansu
Archaeologists discover 114 kg of coins from the Han, Tang, Song and Jin dynasties buried at a site in Dingxi City, Gansu Province.

Byzantine Gold Coin Found in Tomb of Emperor Jiemin of Northern Wei
Byzantine gold coin (solidus) discovered in tomb of Emperor Jiemin of Northern Wei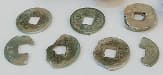 Xin Dynasty Coins Found in Korean Tomb
Coins cast by Wang Mang of the Xin dynasty found in Korean tomb
---
Return to
Ancient Chinese Charms and Coins